| Home | Judging Type | History & Purpose | Temperament | Colour | The Side View | From the Front | The Head |
| More Heads | The Body | From the Rear | Movement | Standards | Anatomy | Famous Sires | Photo Gallery | Links |
| Differences Around the World | Body Style Comparisions | Beautiful Heads | Eye Shape | The Skull Shape | Optical Illusions |
| How Structure affects Movement | Choosing a Puppy | Contact Me |








THE EYES ON A BOXER
| | |
| --- | --- |
| | |
The shape of the eye is not described fully in any standard around the world. Most say "The eyes should be dark brown; not too small or protruding; not deep set. " or words similar.

Enno Myer in his book "Judging the Boxer" said about eyes:

"Size, shape, setting and color share equal responsibility in creating the correct Boxer expression even though it is true that these qualities overlap in influence, each upon the other.

The normal Boxer eye is dark brown and luminous. It radiates energy, amiability and intelligence. It breathes trust as opposed to any semblance of craftiness or beligerence.

The eye TOO LARGE is is definitely not Boxer; ordinarily it protrudes, and it has a vapid look which would indicate almost a lack of mental capacity.

The SMALL, DEEPLY SET eye goes to the other extreme. If dark it may have a threatening or piercing expression, foreign to the normal character of the breed. If it is light in color, it often incorporates a certain degree of shrewdness as if the dog must make up in cunning what it lacks in real brain power."
| | | |
| --- | --- | --- |
| Normal | Large and protruding | Small, deeply set |
I took the liberty of adding three more that I think have crept in over the past 30 years....

Loose bottom eyelid


Eye socket larger than eyeball
showing white around the eye


Bottom eyelid loose
showing the inner haw

This is a drawing of my interpretation of the correct shape and frontal placement


(After drawing this shape I think it resembles a lemon!)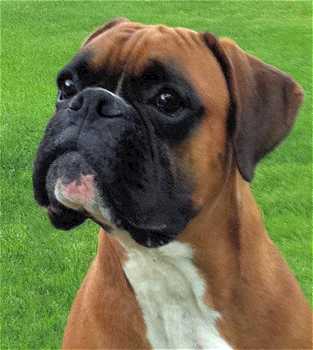 Below more are examples of typical well shaped Boxer eyes
Notice there is a softness in the bottom lid,
but the eye is reasonably tight and the haw does not show.
Beautifully shaped eyes with mood mirroring expression
Lovely expressions on very young puppies.
| Home | Judging Type | History & Purpose | Temperament | Colour | The Side View | From the Front | The Head |
| More Heads | The Body | From the Rear | Movement | Standards | Anatomy | Famous Sires | Photo Gallery | Links |
| Differences Around the World | Body Style Comparisions | Beautiful Heads | Eye Shape | The Skull Shape | Optical Illusions |
| How Structure affects Movement | Choosing a Puppy | Contact Me |





Copyright © Worldwide Boxer - All rights Reserved
Site design by Webpage World