MOVEMENT
See also
HOW STRUCTURE AFFECTS MOVEMENT > > >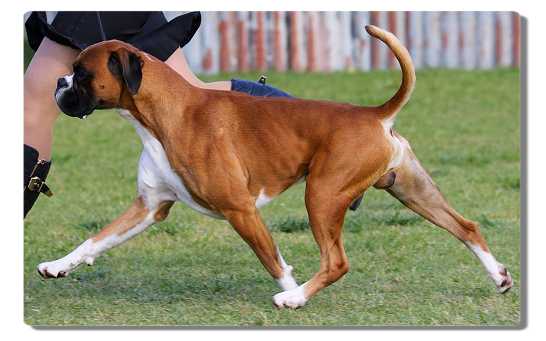 TIME TO SEE HIM/HER MOVE, SEND THE BOXER AROUND THE RING........
Is he/she moving freely and easily at a steady pace...not too fast and not too slow?
At full extension do the front legs reach well forward keeping a straight line from shoulderblade to front foot keeping a 45% angle to the ground?
Does the rear legs extend well to the rear keeping a straight line from hip joint to rear pad.
Is the head carried forward, to balance the stride?
Does the topline stay level and true?
Is the tail carried at the correct angle?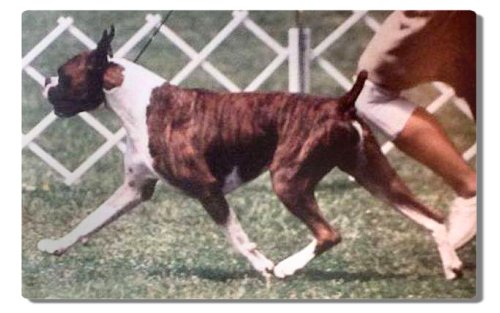 NOW SEND THE DOG UP AND BACK........
Moving away from you do the rear pasterns stay firm as the hind feet converge slightly to the center of gravity under the body, then drive firmly to the rear, with good thrust .
Coming back to you do you see the front feet reach well forward, again converging slightly to the center of gravity keeping the legs in a straight line from shoulder to paw. (NB: When the dog is coming towards you it should not be moving fast enough to allow the front and rear legs to appear to single track.)
When the dog returns have it stand naturally in front of you so you may see any faults that have previously been hidden by good handling.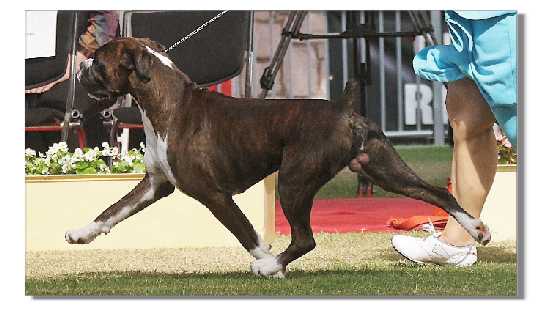 IN CONCLUSION
Whether you are a breeder or a judge, keep this criteria in mind in your search for a smart, stylish, well balanced, correctly constructed Boxer.
If you are a judge, and you find such a dog (or bitch), they should not only be the class winner, Winners dog or bitch, Challenge or Breed winner, but a strong contender for a Group or In Show award.
Links on Gait
Canine Lameness Learning Module > > >


Moving Boxer courtesy Amy Willder of VEZBEN Boxers Reg.