| Home | Judging Type | History & Purpose | Temperament | Colour | The Side View | From the Front | The Head |
| More Heads | The Body | From the Rear | Movement | Standards | Anatomy | Famous Sires | Photo Gallery | Links |
| Differences Around the World | Body Style Comparisions | Beautiful Heads | Eye Shape | The Skull Shape | Optical Illusions |
| How Structure affects Movement | Choosing a Puppy | Contact Me |








HEADS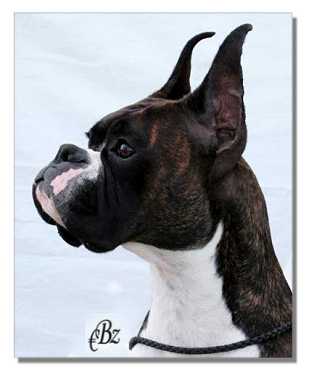 On this page are a selection of many beautiful heads from as long ago as the 70's to the present day!
There are many styles of head from all over the world shown here but all conform to the standard.
I hope you enjoy choosing which ones you prefer as much as I did!
Heads from the past!
These first 6 heads are heads I have admired over the years!
---
Heads of today
Puppies and young dogs
---
Mature Boxers
MORE HEAD PHOTOGRAPHS ON THESE PAGES


Europe UK USA/Canada Australia/New Zealand Asia
South Africa
[Run your mouse over any photograph on these pages to see the name of the dog.
Click on the photograph to take you directly to the owner's website!]
Back
Next
| Home | Judging Type | History & Purpose | Temperament | Colour | The Side View | From the Front | The Head |
| More Heads | The Body | From the Rear | Movement | Standards | Anatomy | Famous Sires | Photo Gallery | Links |
| Differences Around the World | Body Style Comparisions | Beautiful Heads | Eye Shape | The Skull Shape | Optical Illusions |
| How Structure affects Movement | Choosing a Puppy | Contact Me |



| Tell a friend |

Copyright © Worldwide Boxer - All rights Reserved
Site design by Webpage World